10 warning signs to look for in your Thai girlfriend or wife
March 3, 2018 - Reading time: 5 minutes
Thousands of foreign guys visit Thailand each year and form romantic relationships with Thai women. If you're one of them, you should be aware of signs and things to look for in your Asian spouse. Thai culture is very different to countries in the west, so we've compiled these top 10 warning signs we think are a good starting point.
She constantly talks about money or asks you for money A good Thai woman would never request money from a man she is just starting a relationship with; this is not an appropriate sign when you are still getting to know each other and should act as a red flag. Common excuses for money can include: her parent's buffalo is sick, she needs money for her family's medical bills, home improvement, or even just help paying for rent and food... Many Thai women that have been involved with the sex industry are especially good liars and know how to get money from foreign men!

She spends a lot of time in bars Alcohol is tolerated in Thai society and culture, but responsibly so. Most people in Thailand wouldn't consider spending night after night sat on a bar stool getting wasted. If you're looking for a party animal and someone to have a casual time with, this could suit you. But if you're looking for a serious, stable relationship, maybe this isn't the person for you. Also see our blog post about bar girl investigations.

She has tattoos While this point in itself doesn't automatically make someone a bad person, tattoos on women are very much frowned on in Thai society. Tattooed women have become synonymous with the sex industry in Thailand with bar girls and go-go dancers frequently sporting ink. Outside of the night life and in normal society, women with tattoos carry a stigma and this should raise another red flag against your Thai partner. See our blog post about Thai women with tattoos.

She smokes cigarettes Good women that haven't been involved in the sex industry night life don't tend to use tobacco in Thailand. Smoking cigarettes is very common with ladies working in shady beer bars and can be a sign of a troublesome past.

She wears a huge amount of gold Gold is worn in Thailand and used as an investment as it can easily be pawned or sold when falling on hard times. However, it should be worn tastefully with no more than a couple of items, for example one necklace and 2 rings. If someone is wearing multiple thick gold chains worth thousands of dollars, they are seen as flaunting their wealth and showing off. This isn't an attractive trait and could be a sign they are used to a very expensive lifestyle.

Her English is very good but she never attended university Public schools in Thailand do not tend to teach a high level of English at all. If you're dating someone that speaks English but never attended university or English classes, this could be a sign that they've learned the English they speak by hanging out with foreigners in bars and other seedy places.

She swears a lot A good, respectable Thai woman would not use English swear words when speaking to their boyfriend or anyone else. You might find it amusing if your darling swears like a drunken sailor, but this is definitely not a good thing and highly taboo in Thai culture.

She says that all Thai men are "no good" With every group of people in the world there are good and bad, and Thai men are no exception. While there may be cases of domestic violence or abuse in Thailand, it's not true that all Thai men are bad. Thai men typically respect their girlfriends or wives in the same way that you would expect with a Western relationship. If a woman tells you that "all Thai men are no good" maybe that's a sign that Thai men just don't like her, and maybe there is a reason for that.

She is constantly on the phone texting while spending time with you It is never a good trait if your girlfriend or the lady you're dating is constantly using her phone and texting while you're together. This type of behavior is disrespectful and shows that you're not deserving of her full attention. You should become extremely suspicious if she hides her phone screen from you or walks away from you to secretly speak with people in English in the toilet or somewhere else... No matter the excuses, these are huge red flags that the woman could actively be in a relationship with another man.

She is involved with, or tolerates the use of illegal drugs This by far the most serious warning sign to look for in your prospective partner in Thailand. Drug use and drug dealing is extremely taboo in the kingdom. There are 35 crimes that can earn you a death sentence in Thailand with drug trafficking being on that list. If you encounter anyone involved with illegal drugs in Thailand the best thing to do is walk away.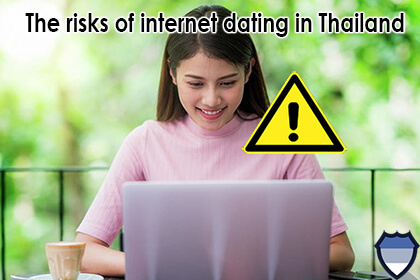 10.5: You met her through an app or internet dating site. If this applies to you then read our blog post about the dangers of internet dating in Thailand.
Are you being lied to by a Thai woman? We can help and have investigated countless ladies in Thailand. We can expose cheaters and their lies. Our prices are very competitive, for personal survellience we charge just 1,000 THB per hour. We also offer more high tech investigations such as cellphone monitoring software and GPS tracking devices. If you're having doubts about your girlfriend in Thailand, Send us a message today for a free quote and see how we can help you.