Internet dating a girl from Pattaya or Bangkok?
February 17, 2018 - Reading time: 3 minutes
Are you Internet dating a girl from Pattaya or Bangkok? Internet dating is very popular in Thailand and there are countless different websites and apps used in the country to find prospective partners.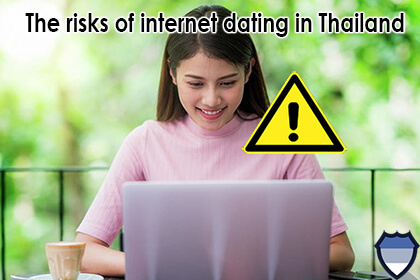 We have found that meeting ladies through internet dating tends to give a false sense of security. It is very easy for someone to lie about where they work, as well as having graduated from university and many other different facts that makes someone attractive to the opposite sex. It's hard to cut off a relationship with someone after you've spoke daily for several months and met them in Thailand... and this fact isn't lost on them.
If a woman has been involved with the sex industry for many years and looks to dating through the web to find a foreign husband... Will she be honest about her line of work? Will she explain that she has been a prostitute for several years? We don't think this is very likely at all. Prostitution is highly stigmatized in Thailand as it is in most of the world and ladies of the night are fully aware of this. It's very easy to lie about this and claim to have a legitimate job.
Finding a girlfriend or a wife in Thailand is very different to dating in the western world. It has been reported that there is over 27,000 active prostitutes in Pattaya city alone, with it often being described as the sex tourism capital of the world. Internet dating can be a life line in helping prostitutes escape a life of poverty; it allows them to find a husband overseas while continuing their illicit line of work in the land of smiles. It also allows them to find multiple men that are willing to send them money regularly.
Many Thai women don't enjoy being involved with the sex trade, but it is a way to provide for themselves and their families with the Thai minimum wage around just $10 US per day. A lot of these women are expected to provide for their families and this can be hard to do on a meager wage.
A common tact among internet dating hookers to hide their profession is to find a business near to their home and take many different photos there. This could be a restaurant or a café which tend to have informal dress codes for their staff. It is easy to visit such a place and take photos which can then be uploaded onto dating sites and sent to their boyfriends overseas. We have even seen women pose wearing uniforms from the shop to make these photos appear more convincing. Without being in Thailand yourself it's impossible for you to discover the truth yourself, but very easy for us to help you!
We believe that if you are becoming involved in a romantic relationship with a Thai woman that it is best to get her checked out early in the relationship. The more time goes on, the more attached you will become to the lady, and the more forgiving you're likely to be of her deception. If you think that we can help you, send us a message today explaining your situation and we'll reply with a free, no obligation quote.